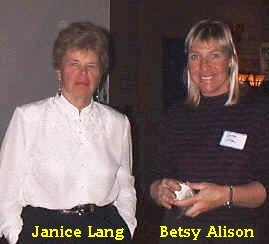 Betsy Alison, 5 time Rolex Yachtswoman of the year and World Woman Match Racing Champion, told an audience of 70 Lake Champlain Sailors that she owes her success to teamwork. Alison gave a presentation at the Ramada Inn in South Burlington on March 27th. Although she started her 30+ year racing career in single handed boats, Alison wanted to race with her friends and that led her to J/24s and other multi crew boats and more success.To demonstrate the value she places on teamwork Betsy have made a habit of giving her Rolex Watch awards to those that have supported her including the most recent watch which she gave to her foredeck crew member of 10 years.
The audience was treated to a slide show on the ISAF Word Sailing Championships. A life long dream for Alison was to win a gold medal and stand on a podium and see the US flag rise and here the national anthem. In Dubai, her dream came true. Her team entered two ISAF world championships, women's fleet racing and match racing. She came in second in fleet racing and was down to the match racing event to win the gold.
Training was a big part of team Alison's plan along with good planning. While many team members were housed in a tent camp. Betsy's team was stayed in a nearby luxury hotel. That fitness paid of when her boat boat's rudder got hung up on the committee boats anchor line during a match. While her competitor was bearing down she jumped off the boat cleared the line and was able to pull herself back on board her J/22 and continue the race without drawing a foul.
This event was hosted by the Malletts Bay Boat Club, Lake Champlain Community Sailing Center, and Lake Champlain Yacht Club. The organizers were Janice Lang, Tammy Ouellette, Marcie Milton, Bibs Francis, Ann Brush and Rachael Miller.