By Bill Fastiggi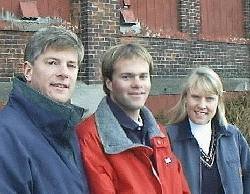 Bill Fastiggi, Andy Horton & Heather Rowe
Andy Horton, I decided to team up for this event rather than sail both our boats (we had each qualified to compete in the trials), and convinced our good friend Heather Rowe to sail with us. The regatta was sailed on Lake Carlysle in Southern Illinois, near St. Louis, MO. Friday October 16th through Sunday, October 18th. Andy and I drove out with the boat in tow, while Heather flew from Burlington to St. Louis.
Although, we had all sailed together before, all three of us had never been in a Lightning together at once. We had a few hours of good practice on Thursday, which we were all happy for. Andy has spent most of this year sailing his Soling, Heather hadn't sailed in the front of a Lightning in a few years, and it has been a long time since I sailed an entire regatta crewing in the middle of a Lightning. Because we were all tired from the trip and felt that our own practice was the most valuable way to spend our time, we elected not to sail in the practice race Thursday afternoon.
Conditions on Saturday were to our liking 12 – 18 out of the southeast. We posted a 3,1,1 on the first day to lead the regatta early on. In all three races, we started conservatively, got to the weather mark in the upper middle of the fleet, and worked our way up through the fleet. This comeback pattern was one that we seemed to follow in every race.
Saturday morning the wind was blowing a little harder 15-20 and we did not have the rig de-powered enough, so as the breeze built to a solid 25 knots, we struggled a little, managing a 9th. After a four-hour delay, the breeze lightened up enough to sail late in the day. We ended up 6th, but this still kept us in the lead with one race to go.
The series was scheduled to be six races with one throw-out, if all six races were sailed. Going into the last race it was still very close. With out the throw-out (i.e. if the 6th race was cancelled) the scores were Horton 20 points, Tom Allen Jr. 21, Ched Proctor 22, Sean Fidler 24, Dave Starck and Phil Grotheer a few points back.
With a throw out however, Jody Lutz (who had a breakdown in race 2) had the same finishes 1,1,3,6 as we did, so we were tied with 11 points. Ched Proctor had 13 points, Tom Allen Jr. 14, and Sean Fidler with 15 were still in contention.
The last race on Sunday was sailed in much lighter breeze 4-8 knots of breeze. We got a clean start to leeward of Ched Proctor, with Jody Lutz just to weather of Procter. After sailing for about three minutes Lutz was forced to tack away off a 15-degree lift. Unfortunately, the breeze continued to go right and we did a poor job of getting back across the course. At the first mark Dave Starck was leading, Tom Jr. was 2nd, Jody about 6th just ahead of Ched. We were in a distant 15th only ahead of 2 boats.
As had been the case throughout the regatta – we were patient. We gained a lot of distance and a few boats on the first run, hit the first few shifts after the leeward mark and sailing on the correct left side in a little more pressure, got back into the race. At the last leeward mark Sean Fidler was leading, we were 6th while the other teams we needed to beat were behind us. We needed to pass a boat to tie Sean (we would win the tiebreaker) on the final beat to the finish. We did a great job sailing the shifts up the middle and staying close to our competition. We crossed the line third behind Sean Fidler and Theresa Colantuano, although, as it turned out Sean was OCS.
The PAN AM games are next July in Gimli, Manatoba (Canada). We will be sailing together as a team for the Lightning Southern Circuit in March, and a few other regattas in the spring.