Andy Horton — Shelburne, VT continues to win.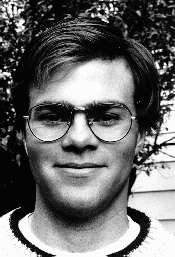 This past summer Andy teamed up with Bill Shore and Betsy Altman to finish third in the Lightning North American's.
In collegiate racing Hobart & Williams Smith's sailing team is No. 1 in the latest collegiate rankings. They whipped Navy and Kings Point in the final events of the fall. Andy is a senior at Hobart College.
Andy off to Florida during the Christmas break to compete in the Vanguard 15 NA's and the USTRA regatta afterwards. He is trying to line up a Soling to race at the end of January in preparation for the Worlds in Milwaukee next summer.
For more information about the Lightning NA's and collegiate sailing check out the following links!
Hobart Sailing Team Intercollegiate Yacht Racing Association