The world's smallest drawbridge, the Route 78 bridge crossing the Missiquoi River in Swanton, VT, has been out of operation since 1988. Because it is blocking access to a navigable waterway, the Coast Guard could levy a $1000 per day fine for every day the bridge is not operable.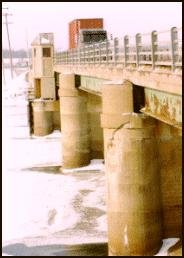 According to Sherwood Fahnswick of the Vermont Department of Transportation, the bridge was built in 1917 and is 24 feet, 8 inches rail to rail giving it a 20 foot wide road surface.
However, things like trying to widen a 78 year old bridge that hasn't been opened in seven years are not simple. Fahnswick estimates that work will begin on the project in the summer of 1998 and be completed in the summer of 1999. Fortunately, the Coast Guard is more interested in seeing the bridge back in operation than in collecting the fine. According to Mr. Kassos of the Waterway Management Division, if the state is working to correct the problem, they will not invoke the penalty.